Get Qualified, Professional Help for Mold in Your Home
8/18/2022 (Permalink)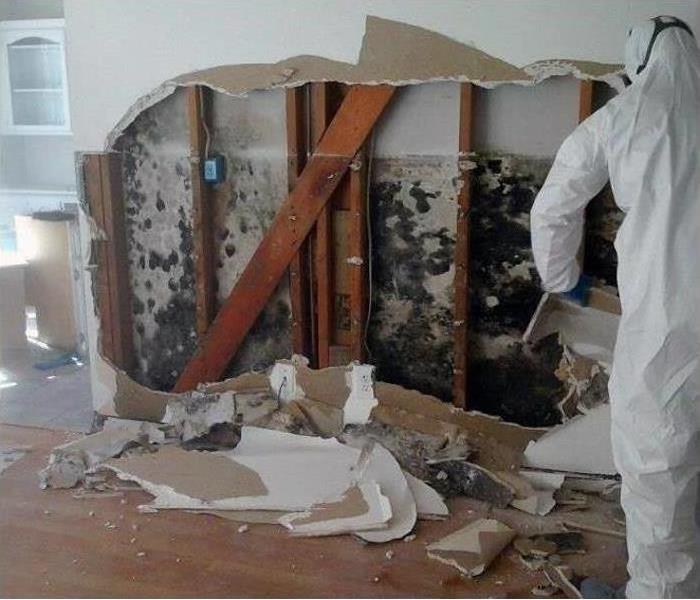 Mold can be in hidden places such as inside walls or behind appliances. Make sure you have a qualified professional working on your mold problem.
Mold can lurk under carpeting, behind drywall and wallpaper, and under sinks for a long time before you notice it is there. As soon as you notice it, it is essential to get it cleaned up. However, you should not try to clean up mold damage on your own.
Since mold can be dangerous, it should always be handled by a trained professional with the proper equipment and proven processes. That's why so many homeowners and business property owners rely on SERVPRO of The Spokane Valley.
Using IICRC certified techniques and specialized equipment, your SERVPRO technician can detect mold in difficult places and provide a remediation plan.
What You Can Expect During the Mold Remediation Process
Every project is a bit different. However, there are a few things you can expect for mold damage cleanup, a process called remediation.
The goal is to remove as much of the mold-damaged material from your home or business safely without disturbing it or allowing the spores to spread. Containing it is critical to this process. Once the bulk of the material is removed, such as damaged drywall or flooring, the next step is to treat the area.
A trained professional from SERVPRO of The Spokane Valley will use very specific mold remediation techniques to do this. The area is sealed off, or a whole-home treatment may be necessary depending on the situation. The exact techniques and processes used will depend on the type of mold and where it is found.
Get Professional, Effective Mold Remediation Today
You are not alone in your battle to manage mold damage. Our team at SERVPRO of The Spokane Valley can provide immediate help. Call us today for help and a stress-free process. You can reach us anytime 24/7 at 509-926-6140.